Rick Tumlinson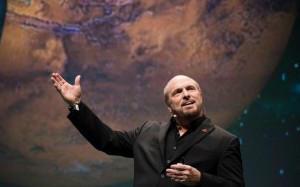 Rick Tumlinson has been called one of the world's top space "Visionaries" and was listed by Space News as one of the world's top 100 most influential space leaders. He helped create the NewSpace commercial space industry that today includes Virgin Galactic and SpaceX and billionaire investors like Paul Allen and Larry Paige of Google.
He helped found the International Space University, the Lunar Prospector Project that discovered water on the Moon, and the Mars Society and founded the commercial space suit company Orbital Outfitters Inc. In 2004 Rick was one of only 20 guests invited by the White House to hear President Bush announce his plans to return to the Moon and explore Mars. Often a public critic of the agency, he helped start NASA's prestigious Lunar Exploration Analysis Group, edited the book Return to the Moon and organized the first three Return to the Moon conferences.
He is currently working as Chair of Deep Space Industries, an asteroid mining and space resources company located at the NASA Ames Research Center in Silicon Valley. He recently held the Space Pioneering Summit in Washington DC, where over 100 of the US top space leaders, including CEOs, aerospace executives, astronauts, scientists and policy makers came together to agree on a new settlement oriented national space program.
His latest projects are the EarthLight Foundation and the New Worlds Institute that will be holding its first conference in 2015 in Austin, Texas, and is designed to be a focus for the development of technologies and ideas to enable the coming human expansion into space. He is a regular contributor to the Huffington Post and Space News and his writings and interviews appear in media worldwide, from CNN to the New York Times, to Fox News, Al Jazeera and the People's Daily.