Helen Keen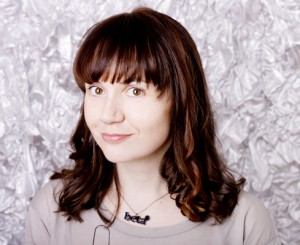 Helen Keen is an award winning comedy writer and performer. She began her career by winning the first Channel 4 New Comedy Writing prize, and wrote material for various established tv and radio shows. As a performer she toured the country with Robin Ince and Prof. Brian Cox as a guest of the Uncaged Monkeys (the live version of Radio 4's Infinite Monkey Cage which she has also appeared on several times). Helen was later appointed the first Comedian in Residence at Newcastle University's Centre for Life Science Village.
In August 2013 she compered the first ever live comedy night at CERN, Large Hadron Comedy, the event was webcast and attracted CERN's largest international on-line audience since the announcement of the discovery of the Higgs boson…
In 2014 she joined the Stargazing Live live roadshow as a comedian & history of space travel expert, and appeared in the second TV series of The Alternative Comedy Experience (curated by Stewart Lee), broadcast on Comedy Central.
Helen's first solo stand up show It Is Rocket Science (winner – Buxton Fringe Festival, Best Comedy Performance) was picked up by BBC Radio 4 and has so far launched 3 critically acclaimed series. The show won the 2013 WISE Media Award and was shortlisted for the 2014 Writers' Guild Award for Best Radio Comedy.
In 2015 she was selected as a Wired Innovation Fellow.
She has also been featured on:
Radio 4's The Infinite Monkey Cage, Museum of Curiosity, Wordaholics and Jon Ronson On.
Live at the Electric BBC3
Radio 4's Fourth Dimension
BBC7's Comedy Club
"Embodies all the best things about intellectual comedy. Smart without being elitist, and with just the right amounts of sincerity and sarcasm"
Spoonfed.co.uk
Helen won the Association of British Science Writer's Royal Society Radio Prize for her BBC Radio 4 comedy show about space history, It Is Rocket Science earlier this summer http://www.absw.org.uk/news-and-events/absw-news/winners-announced-in-the-2015-science-journalism-awards.html – and her latest science-comedy series, Big Problems with Helen Keen has just been broadcast on BBC Radio 4 in their prime 6.30pm slot.
You can find some very short clips here http://www.bbc.co.uk/programmes/b05xpyzw/clips and some more clips from the Rocket Science show are here http://www.bbc.co.uk/programmes/b01hpjm9/clips.
Image credit: Helen Keen