Thorsten Schmidt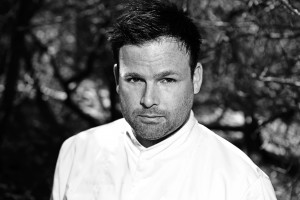 Thorsten Schmidt is a top chef whose style is experimental, rebellious and intriguing. He is pro-nature and pro-local product. His curiosity and creative force (he even makes some accessories, plates etc.) continuously break the rules to achieve a cuisine that speaks to all the senses.
Dubbed the Nordic Alchemist, Thorsten is eager to explore and develop Nordic Cuisine, or more specifically, Jutlandic cuisine – a philosophy rooted in local, sustainable cooking that inspires the desire to create memorable moments and evoke the strongest of feelings. It's all about new discovery.
His restaurant Malling & Schmidt is considered among the most important restaurants in Denmark. Rene Redzepi, chef at Noma (one of the top 50 restaurants in the world),  even calls Thorsten "one of the pioneers within Nordic regional cuisine".
One of Thorsten's recognised dishes is the unconventional oak bark ice cream of which he serves up with salted shavings: it illustrates how he plays with the senses, disorientates a little and then wows you all in the space of a minute.
Though a pioneer of New Nordic cuisine, his studies in Bremen, Germany, and even more so in France, have greatly influenced his understanding of "le terroir". Thorsten discovered that great cooking is all about knowledge of the land and those who reside there: plant, animal or mineral – and then using this information to create something totally distinct.
His kitchen at Malling & Schmidt is not only where great food is produced, it is also a laboratory where new methods and creations can be discovered.