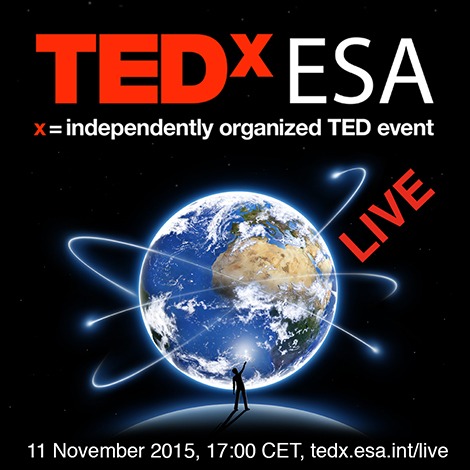 Watch TEDxESA 2015 live from ESA ESTEC
What are you up to next Wednesday, 11 November 2015, between 17:00 and 21:30 CET? Forget about your fav on-demand platforms and linear TV for once and tune in to the TEDxESA 2015 livestream featuring our amazing speakers and their inspiring stories.  Grab the player's embed code and put it in your blog, tweet about it, post it, share it, organise your own viewing party – it's about Space, #ScienceBeyondFiction and, after all, ideas worth spreading.
This first official TEDxESA event will take place on 11 November 2015 at ESTEC, ESA's engineering and technical heart, in Noordwijk, the Netherlands. It will start at 17:00 CET. When spreading the word, please link to tedx.esa.int/live. We'll post a detailed schedule soon.